Evolution Aqua Universal Hanging Kit
Universal stainless steel mounting kit for aquarium lighting
Universal Lighting Hanging Kits by Evolution Aqua are a very versatile solution to fitting lighting to aquariums.
Length, height and angle adjustable, the Hanging Kits can be fitted to virtually any cabinet and are strong enough and flexible to mount virtually any aquarium light on the market today, from metal halides, to multiple T5 units, to LED lamps.
Available sizes: 1200, 900 & 600 Hanging Kit 
Every Hanging Kit comes with two cabinet mounting bars, two 90 degree top support bars and a light hanging bar, and can be rear mounted to a cabinet behind the aquarium, side mounted, or even mounted to a wall behind.
Choose if you want side or rear mounting, fit it, and then adjust the height. Use the light hanging bar for front to back adjustment of the unit and even left to right adjustment. Multiple units can be hung on one bar and lights with wire hanging fittings are also accommodated for.
The same Universal Lighting Hanging Kits are suitable for corner aquariums, and from a set, many other display options are possible, like just using one mounting bar and one 90 degree top support bar for a single, pendant style light, to two mounting bars and two top supports with no light hanging bar, to mounting bars, supports and the hanging bar.
For very large tanks two or more Universal Lighting Hanging Kits could be rear mounted.
All Universal Lighting Hanging Kits are suitable for both freshwater and saltwater tanks, and although four models are available for a range of suggested tank sizes, other shapes, sizes and models could also be accommodated with a little user discretion and imagination.
Adjustable Configurations


450 Size
To fit aquariums up to:
500mm in length (rear mounted)
490mm to 830mm (side mounted)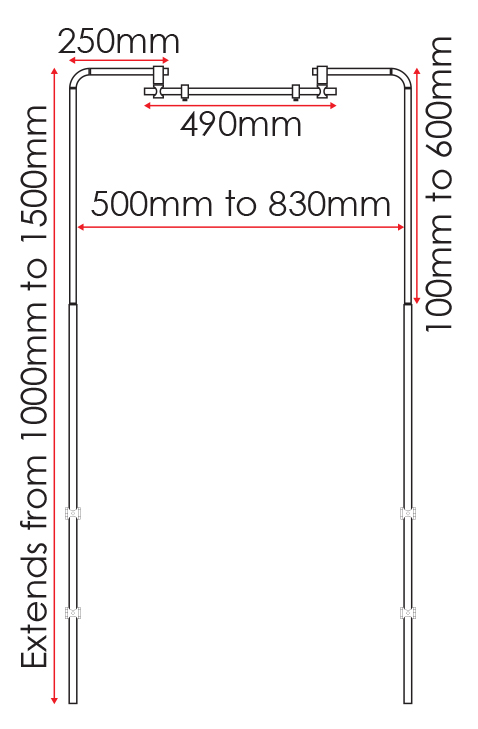 600 Size
To fit aquariums up to:
600mm in length (rear mounted)
650mm to 1080mm (side mounted)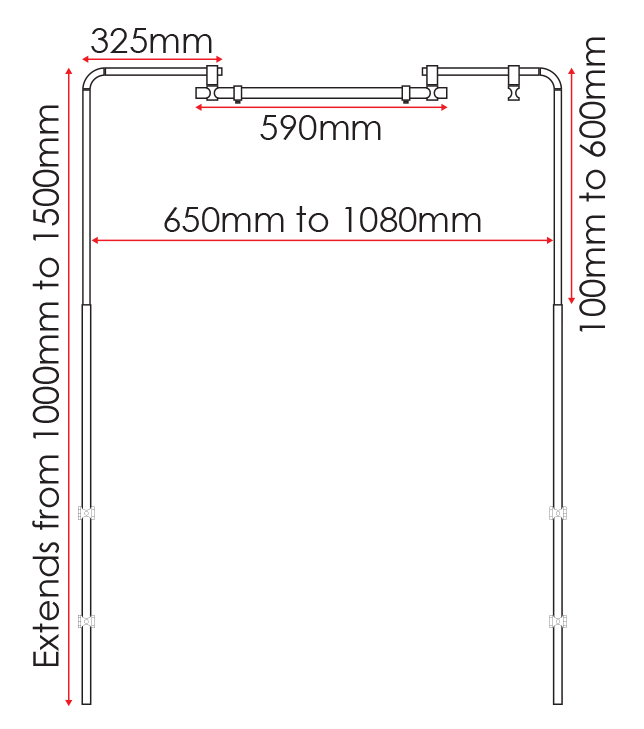 900 Size
To fit aquariums up to:
900mm in length (rear mounted)
950mm to 1380mm (side mounted)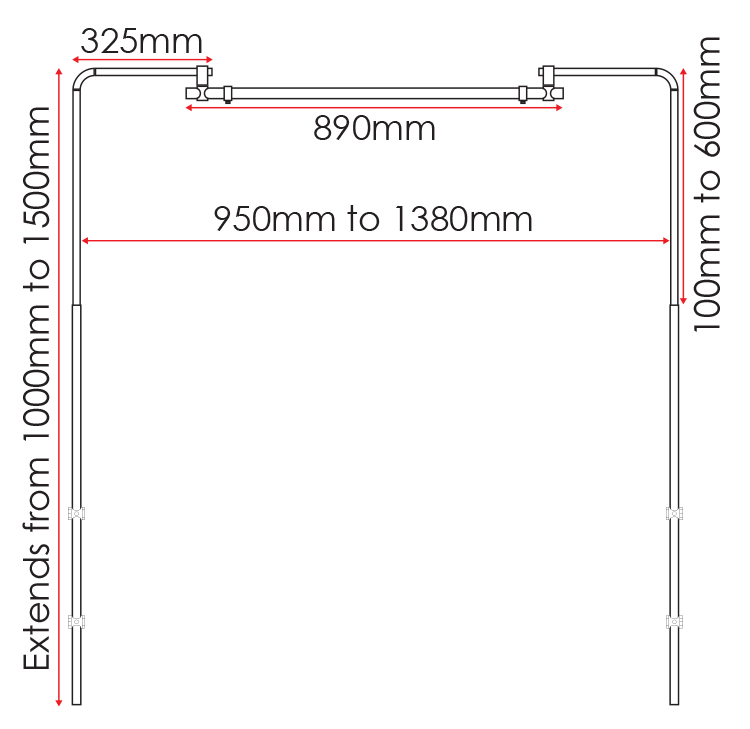 1200 Size
To fit aquariums up to:
1200mm in length (rear mounted)
1250mm to 1680mm (side mounted)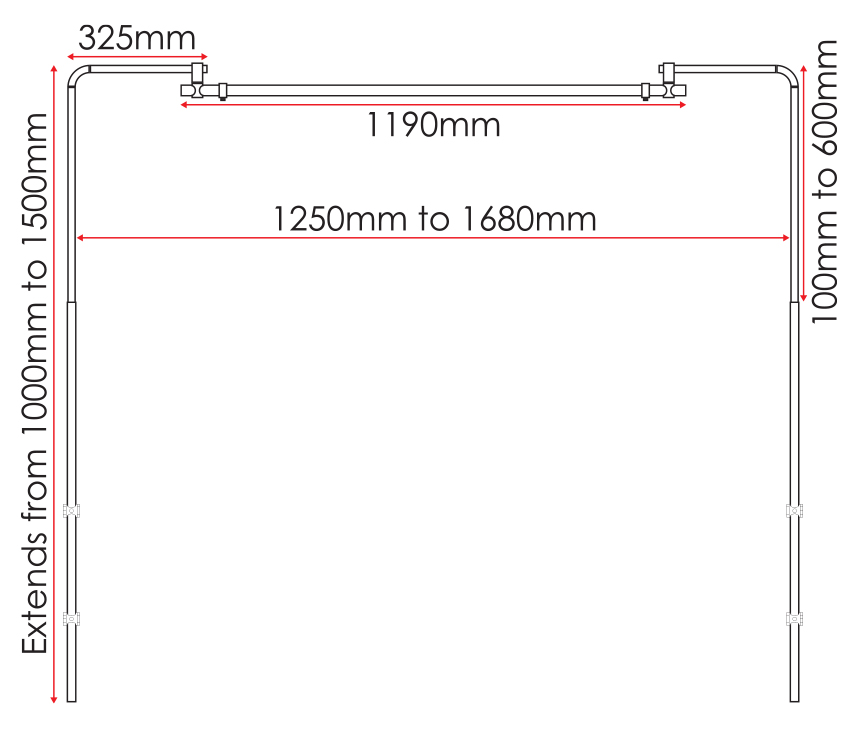 What's included
Small Allen Key
Medium Allen Key
Large Allen Key
2 x Grub Screws
Spanner
2 x Cabinet Mounting Support Bars (With cabinet fixings)
2 x 90° Top Support Bars (With bracket)
1 x Lighting Hanging Bar (With lighting mounts)
 COVID-19 UPDATE
EVERYTHING IS WORKING AS IT SHOULD AT THE PRESENT MOMENT, PLEASE GET IN TOUCH IF YOU HAVE ANY ISSUES OR QUESTIONS REGARDING DELIVERY OR RETURNS THAT IS NOT ANSWERED BELOW
WE USE DPD FOR MOST DELIVERIES, SO THEY ARE USUALLY WITH YOU WITH 48 HRS OF ORDERING (EXCEPT ON WEEKENDS)

CLICK & COLLECT IS AVAILABLE, 7-DAYS A WEEK
WE AIM TO SEND OUR YOUR ORDER SAME DAY
Orders received before 1PM (GMT), will be sent same day, providing all items are in stock. Orders placed after 1PM on Thursday will be posted the following Monday.
If you would like to receive your order on a specific day, please leave a note in the box at checkout.
SHIPPING RATES IN THE UK
Shipping service
Delivery time
Cost

Click & collect

Pick up in-store

Free

Standard Shipping

1 - 3 working days

£3.99 up to 5kg

£5.99 over 5kg

£8.99 up to 15kg 

DPD Courier

(Tracked)

1 - 2 working days

£5.99 up to 2KG





£6.99 over 2KG 

DPD Next day Courier

(Tracked)

 

1 working day

£6.99 up to 2KG

£7.99 up to 10KG

£15.00 up to 20KG

Tank shipping

(excludes ADA Mini range, DOOA Neoglass Airs & 10L Dennerle tanks)

1-3 working days
£9.99

Heavy Shipping

Orders 20 - 30kg

Orders 31 - 40kg

 (All tracked)

 1 - 3 working days

 

£15.00 up to 30KG

£20 up to 40KG

 
International shipping
We are still learning the ropes in terms of shipping, so please get in touch via email for deliveries outside the UK and we can see if it's possible, hello@scapednature.com 
We currently charge a £20 flat fee for International Shipping. Once shipping is calculated you will be refunded the difference on the actual cost of shipping.
If you are ordering from Overseas, please note YOU ORDER AT YOUR OWN RISK. We are not responsible for loss, damage or undelivered packages, as we cannot guarantee the efficiency of overseas postal / courier services.
Returns and Exchanges
Ordered a new inline atomizer but it doesn't fit? No problem, just give us a quick call or email provided the item is not damaged in anyways, and we'll process your return or exchange immediately.
We also understand that sometimes products arrive and they aren't what you expected or you have changed your mind. Again, no problem, so long as you retain the packaging and the item is not damaged, we're happy to refund or exchange. 
Please note that you are responsible for shipping costs when returning unwanted goods.
Any item that is damaged or faulty we will arrange a collection for you.
Gift Card Terms and Conditions
All Gift Cards are subject to terms and conditions as outlined in the Privacy Policyand Appointments Policy.
​
In addition, please note that Gift Cards are also subject to the following:
-Gift Cards are good for one use only, by one person; unless it has been specified upon purchase that the gift card is for group sessions.
-Each Gift Card is non-transferable, non-refundable and cannot be exchanged for a cash value.
Please get in touch via email or phone within 14 days of your order arriving for all non-perishable returns / exchanges. For perishable goods, such as plants, please get in touch the same day they arrive.
+44 01603 761900
Damaged or Perished on arrival
We pride ourselves on the quality of our products, and will never knowingly send out sub-standard or faulty products. We use trusted shipping partners, Royal Mail and DPD, because in our experience they are the best. However, accidents do happen, especially when you are in the business of selling glass and plants!
If any items in your order are received damaged on arrival, please get in touch on the day they arrive. You will need to email us photos for insurance purposes, hello@scapednature.com. 
Unfortunately, we cannot take responsibility for plants that perish or deteriorate once they are in your aquarium or terrarium - the reason is simple, all aquarium and terrarium set-ups are different, and all plants have different needs. Doing your research ahead of time is all part of the learning process, and we hope our website provides enough information for you to make an informed decision. If you need more information about a product, or are unsure if it will work with your set-up, just get in touch, we won't bite!
Glass Aquariums
Evolution Aqua (EA) Aquascaper aquariums are shipped directly from the manufacturers warehouse. Delivery is within 14 days, but normally sooner than this. There is an additional delivery charge on EA aquariums of £49.99 due to the size and nature of the product. You will receive a call to advise of a delivery date so you can be in to accept delivery.
All other aquariums can be shipped but may be classed in our 'Heavy Shipping' rate if the total order is more than 20kg.
Hardscape & other heavy materials
We pride ourselves on our extensive range of hardscape, but we understand it is not always possible to come and visit to touch and feel stone and wood in person. Please get in touch with us via phone (+44 (0) 1603 761900) or email (hello@scapednature.com) if you have a particular layout or shape(s) you are trying to source.
Given the nature of hardscape (ie it's heavy and expensive to ship!), we have had to cap free shipping at 20kg. The reason is simple, if a customer buys 3 x 15kg bags of gravel and 15kg of stone, this costs us over £50 to ship to you - meaning we make little, or nothing on your order - unfortunately, to stay alive as a business we do need to make a profit so we can carry on offering quality products to our customers.
More questions about shipping and returns? Drop us a line.
+44 01603 761900