A living light that illuminates not only your home, but also your own small biotope. It brings the opulent vegetation of the Amazon or the idyllic silence of a desert oasis directly into your home. Whether on the desk in the office or on top of the bedside table – thanks to the full spectrum LEDs (5W/130 Lumens), your Baiosphere feels good everywhere. The small landscapes form almost independent ecosystems that bring a piece of calming nature to even the smallest apartment -- the possibilities are endless, adjustable air flow vent means you can create a stunning environment for desert, wetland/emerged and tropical plants.
Measurements: H275 x D175mm
IMPORTANT: Due to the delicate nature, we can only send Baiospheres

unplanted/empty

 or as a Create-it-Yourself kit. Planted Baiospheres are available to purchase from our Norwich Store, please get in touch. 
Measurements:
Height: ~275 mm / ~10,83 in
Height (only Teardrop): ~231 mm / ~9,09 in
Width/Depth: ~175 mm / ~6,89 in
Baiosphere Sunlight:
Wattage: 5W
Power Supply: 5V / 1A
Brightness: 130 Lumen
Light Temperature: 3500K (warm white) – 6500K (cold white)
Light Spectrum: Vollspektrum
Housing material: anodized aluminium
Baiosphere Teardrop:
Material: handblown glass, handmade
Delivery contents:
Baiosphere Teardrop
made of handblown glass, handmade
Baiosphere Sunlight
full-spectrum LED-Light with adjustable air vents
Silicone rim
ensures that the lid does not slip
reliably seals the baiosphere
Cable USB to Micro-USB (length 2m)
21-page Customer Manual (English & German)
with helpful information on first use, design and maintenance of the Baiosphere and many inspiring design photos
Warranty:
2 years from date of purchase
SCAPED NATURE PLANTED BAIOSPHERES
@scapednature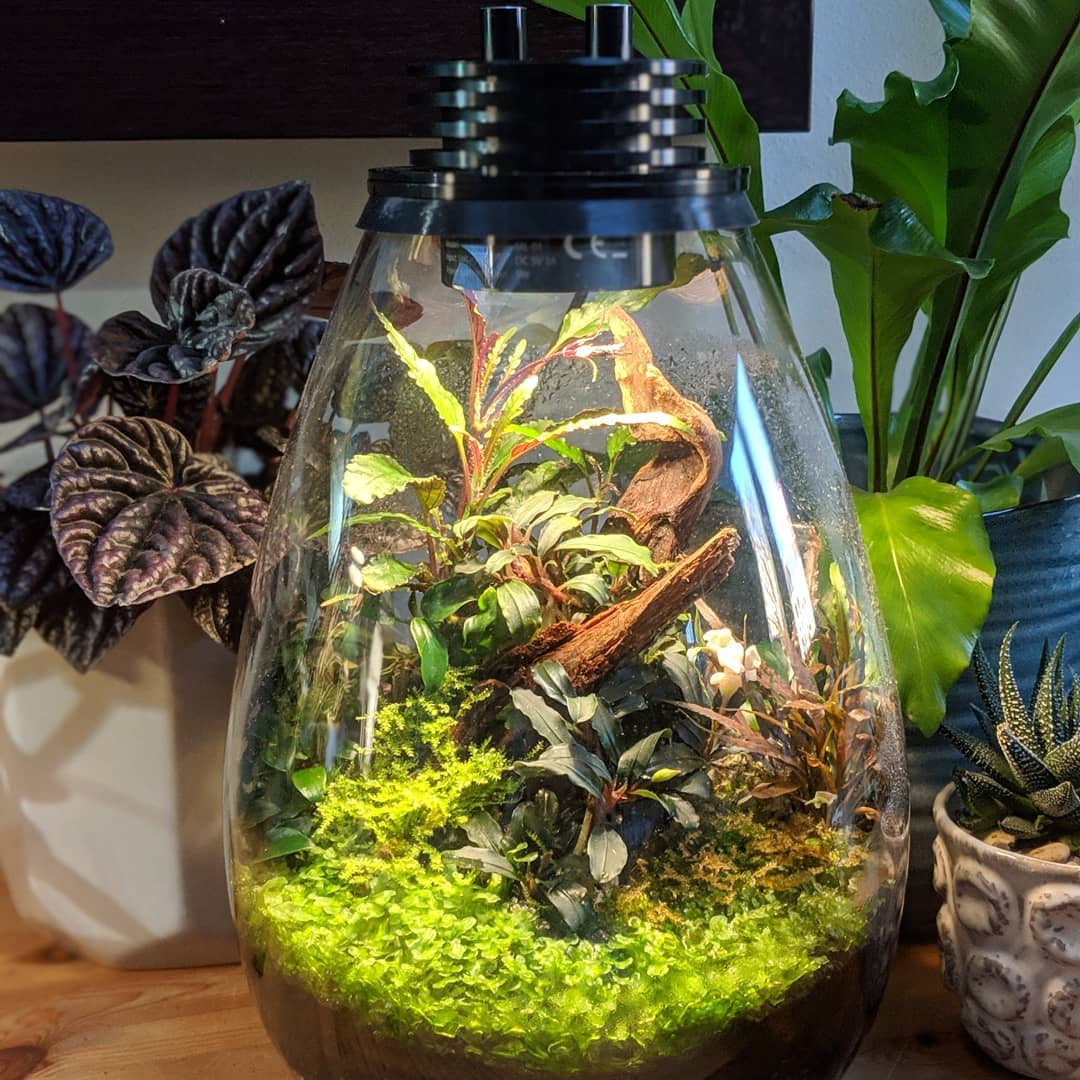 COVID-19 UPDATE
WE ARE OPERATING ON MINIMAL STAFF

THERE MAY BE A DELAY WITH YOUR ORDER, DUE TO DELIVERY NETWORKS AND SUPPLY CHAINS OPERATING SLOWER THAN USUAL

PLEASE ALLOW AN EXTRA 3-5 WORKING DAYS FOR YOUR ORDER TO ARRIVE

SOME ITEMS AND PLANTS HAVE BECOME UNAVAILABLE TO ORDER AT THIS TIME -- WE ARE PLACING REGULAR ORDERS SO IF THERE IS A PRODUCT YOU ARE  LOOKING FOR THAT IS NOT AVAILABLE, PLEASE GET IN TOUCH AT HELLO@SCAPEDNATURE.COM AND WE WILL DO OUR BEST TO HELP

CUSTOMER SERVICE: PLEASE ALLOW EXTRA TIME FOR CUSTOMER SERVICE REQUESTS AS WE ARE EXPERIENCING HIGH DEMAND

CLICK & COLLECT NOT CURRENTLY AVAILABLE 
WE AIM TO SEND OUR YOUR ORDER SAME DAY
We use Royal Mail and DPD to dispatch the majority of orders. Orders received before 10am (GMT), will be sent same day, providing all items are in stock. Orders placed after 2pm Friday will be posted the following Monday.
If you would like to receive your order on a specific day, please select DPD Express Shipping and include a note during checkout to specify your preferred delivery date.
FREE SHIPPING FOR UK ORDERS £100 AND OVER*
*We are pleased to offer free delivery for UK orders £100 and over, up to 20kg. If your order is over 20kg, please select 'Heavy Goods Shipping' option at checkout. If this is not selected, we will need to contact you to regards shipping cost. 

SHIPPING RATES IN THE UK
Shipping service
Delivery time
Cost
Orders over £100 (up to 20Kg)
1 - 3 working days
Free

Click & collect

Pick up in-store

Free (NOT CURRENTLY AVAILABLE DUE TO COVID-19)

Standard Shipping

1 - 3 working days

£3.99 up to 5kg

£5.99 over 5kg

£8.99 up to 15kg 

Royal Mail Tracked 24

(Tracked)

1 - 2 working days

£5.99 up to 2KG





£6.99 over 2KG 

Next day Courier

(Tracked)

 

1 working day

£6.99 up to 2KG

£7.99 up to 10KG

£15.00 up to 20KG

Heavy Shipping

Orders 20 - 30kg

Orders 31 - 40kg

 (All tracked)

 1 - 3 working days

 

£15.00 up to 30KG

£20 up to 40KG

 
International shipping
We are still learning the ropes in terms of shipping, so please get in touch via email for deliveries outside the UK and we can see if it's possible, hello@scapednature.com 
We currently charge a £20 flat fee for International Shipping. Once shipping is calculated you will be refunded the difference on the actual cost of shipping.
If you are ordering from Overseas, please note YOU ORDER AT YOUR OWN RISK. We are not responsible for loss, damage or undelivered packages, as we cannot guarantee the efficiency of overseas postal / courier services.
Returns and Exchanges
Ordered a new inline atomizer but it doesn't fit? No problem, just give us a quick call or email provided the item is not damaged in anyways, and we'll process your return or exchange immediately.
We also understand that sometimes products arrive and they aren't what you expected or you have changed your mind. Again, no problem, so long as you retain the packaging and the item is not damaged, we're happy to refund or exchange. 
Please get in touch via email or phone within 14 days of your order arriving for all non-perishable returns / exchanges. For perishable goods, such as plants, please get in touch the same day they arrive.
+44 01603 761900
Damaged or Perished on arrival
We pride ourselves on the quality of our products, and will never knowingly send out sub-standard or faulty products. We use trusted shipping partners, Royal Mail and DPD, because in our experience they are the best. However, accidents do happen, especially when you are in the business of selling glass and plants!
If any items in your order are received damaged on arrival, please get in touch on the day they arrive. You will need to email us photos for insurance purposes, hello@scapednature.com. 
Unfortunately, we cannot take responsibility for plants that perish or deteriorate once they are in your aquarium or terrarium - the reason is simple, all aquarium and terrarium set-ups are different, and all plants have different needs. Doing your research ahead of time is all part of the learning process, and we hope our website provides enough information for you to make an informed decision. If you need more information about a product, or are unsure if it will work with your set-up, just get in touch, we won't bite!
Glass Aquariums
Evolution Aqua Aquascaper aquariums are shipped directly from the manufacturers warehouse. Delivery is within 14 days, but normally sooner than this. There is an additional delivery charge on all aquariums of £49.99 due to the size and nature of the product. You will receive a call to advise of a delivery date so you can be in to accept delivery.
All other aquariums can be shipped but may be classed in our 'Heavy Shipping' rate if the total order is more than 20kg.
Hardscape & other heavy materials
We pride ourselves on our extensive range of hardscape, but we understand it is not always possible to come and visit to touch and feel stone and wood in person. Please get in touch with us via phone (+44 (0) 1603 761900) or email (hello@scapednature.com) if you have a particular layout or shape(s) you are trying to source.
Given the nature of hardscape (ie it's heavy and expensive to ship!), we have had to cap free shipping at 20kg. The reason is simple, if a customer buys 3 x 15kg bags of gravel and 15kg of stone, this costs us over £50 to ship to you - meaning we make little, or nothing on your order - unfortunately, to stay alive as a business we do need to make a profit so we can carry on offering quality products to our customers.
More questions about shipping and returns? Drop us a line.
+44 01603 761900